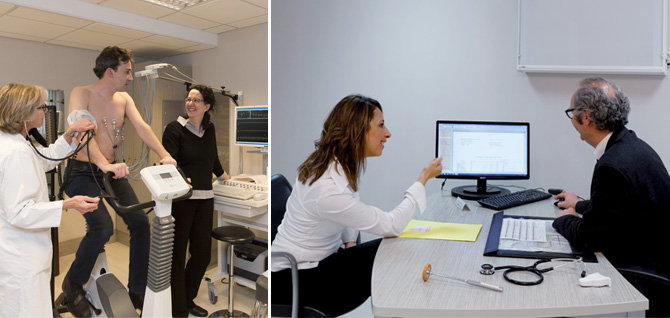 CONTENTS OF THE CHECK-UP
By providing a complete individual health check, CIEM helps to prevent and reduce the development of major disorders:
Cardiovascular diseases,
"Nutritional" diseases,
Cancers.
Methods:
Identification of risk factors (hereditary, biological, toxic, nutritional, stress-related or behaviour-related),
Early diagnosis of incipient disorders and disorders,
Establishment of preventive measures for each individual.
Duration: 3h30
Part 1 of the standard health check-up
ANALYSIS OF BIOLOGICAL SAMPLES
Screening for nutritional imbalances, cardiovascular risk, metabolic diseases and cancers
Screening for anaemia and leukaemia
Screening for mineral deficiencies (calcium magnesium etc.)
Screening for liver disorders (lithiasis, hepatitis, cancer etc.)
Screening for diabetes, lipid-related problems (cholesterol, triglycerides etc.)
Screening for kidney disorders
Screening for thyroid disorders
Screening for high blood pressure, with treatment monitoring
Screening for blood clotting abnormalities
Screening for inflammatory or infectious syndromes
Screening for passive or active smoking
Screening for deficiencies in vitamin B9 and vitamin D
Screening for colorectal cancer
Screening for prostate cancer
Screening for viral infections (hepatitis A, B and C) and HIV (at the patient's request)
Screening for urinary infection and diseases relating to urinary disorders
FUNCTION TESTING
Screening for glaucoma
Visual acuity and AMD
Measurement of auditory acuity
MEDICAL IMAGING TESTS
Chest X-ray (verifying the skeleton - scoliosis etc. and screening for lung infections and cancers etc.)
Abdominal ultrasound (scanning the organs of the abdomen, detection of gallstones, cancers etc.)
Measurement of intima-media thickness (cardiovascular risk marker)
Breakfast is offered at the end of this 1st part.
Part 2 of the standard health check-up
GENERAL MEDICAL EXAMINATION
Patient history questionnaire
(general condition, past medical history - both personal and family - vaccinations, lifestyle, evaluation of stress and sleep disorders etc.)
Bioelectrical impedance analysis
(calculation of the body fat percentage and muscle mass)
Interpretation of the results of the biological sample tests from the 1st part of the check-up
Medical examination
Depending on the profile of the patient:
Nutritional and lifestyle advice
Advice on stress management
Advice for remedying sleep disorders
(referral to specialist if necessary)
CARDIOLOGY EXAMINATION
Patient history questionnaire
Electrocardiogram at rest
Test of aptitude for physical effort (fitness test on a bicycle ergometer) and recovery time
Pulmonary function testing
(study and measurement of the functioning of the respiratory system)
SPECIFIC "EXPATRIATE" TESTS
Biological sample tests
Blood Type during 1st check-up
Screening for malaria by blood smear and by immunochromatographic antigen detection
Faecal parasitology test
Hepatitis A, B and C serology tests (subsequently repeated, depending on the results of the 1st check-up)
Travel medicine
Advice concerning the vaccinations required or that should be repeated
Advice on possible chemoprophylaxis for malaria
SUPPLEMENTARY GYNECOLOGICAL CHECK-UP
(Biological sample tests integrated in the standard health check-up)
Screening for breast cancer (mammography and breast ultrasound from age 40 onwards, every 2 years except in cases of higher risk factors)
Screening for osteoporosis and evaluation of fracture risk (osteodensitometry, depending on the profile of the patient and after patient interview)
Screening for uterine and ovarian cancer (cervical screening)
Pelvic examination (endovaginal ultrasound)
Gynaecological examination