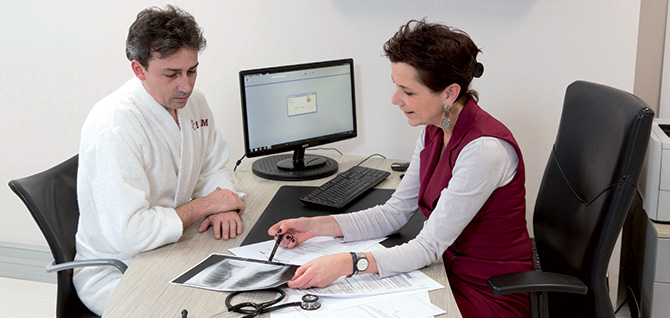 MEDICAL TEAM
All the doctors at CIEM share the ethics of the Centre and its commitment to developing effective and attentive preventive healthcare. During the consultations for your health check-up, specialists and cardiologists take the time to listen to you and advise you. Both in their mind-set and their practice, they form a genuine team of highly qualified experts.
Experienced doctors
The medical team at CIEM comprises approximately forty practitioners, including specialists in internal medicine, radiologists and cardiologists. All are former chief resident physicians (specialist registrars) and/or former house officers/interns or private attending physicians in the French hospital system, and they are all professionally recognized in their practice. They have been recruited by co-option on the basis of team review and selection after one to two years of successful replacements.
The CIEM medical team would not be complete without its nurses, who have been specially trained in the techniques of preventive medical examination and screening.
CIEM Nurses
The nurses assist the cardiologist to conduct your cardiovascular examination and also carry out various technical tests, such as audiogram, eye pressure measurement, visual acuity test, screening for age-related macular degeneration, vital capacity etc.
Doctors recognized for their practical competence…
CIEM firmly believes that that its doctors must be permitted to continue their work outside the Centre, in hospital or in private practice, so that they never lose contact with medicine in the field. For this reason, their periods of attendance at CIEM are reduced to a maximum of two half-days per week.